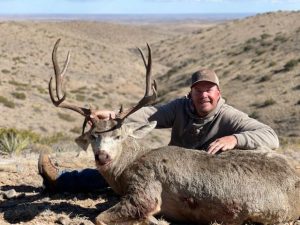 This Texas Mule Deer Hunting Ranch is 47 sections or 30,000 acres north of Van Horn ,Texas in the top of the Delaware Mountains. This is some of the Best Mule Deer Country in Texas. Meals and lodging are furnished on all hunts. All hunters should bring there own bedrolls and plenty of warm clothing. TX Mule Deer Hunting is done from jeep or 4 wheel drive and for those in good condition walk and stalk. There are 3 cabins on the ranch with beds for all hunters and a full time cook is furnished. This Texas Trophy Desert Mule Deer Hunting Ranch has produced some of the best Mule Deer in Texas. This Desert Mule Deer Hunt is for the truly dedicated hunter. Due to the nature of this desert country each year brings on new challenges. Drought, wind, rain, dust storms, fog, cold and snow all make for the unknown but when it all comes together some of the best Mule Deer in the state are produced on this ranch. All hunters are urged to hunt for only mature 5 to 7 year old bucks. We have been under an extensive management program for several year.
Shipp Ranch High Desert Mule's
Meals and Lodging furnished for all Hunters.
WE ARE BOOKING NOW FOR DECEMBER PRE-RUT HUNTS AND JANUARY RUT HUNTS! Email or call.
WE ARE ALSO OFFERING HUNTS ON OUR NEW HIGH FENCED RANCH THAT IS OVER 700 AC. OF RUGGED CANYON COUNTRY. LIMITED! SERIOUS INQUIRIES PLEASE.
Mule Deer Hunts start at 7500.00 and our Hunts have a Harvest Fee. Call or email.
Management Mule Deer Hunts: 7500.00 Plus Harvest Fee.
High Fenced Mule Deer Hunts on 700 acres of Rugged Canyon Country in Culberson County. Call or email.
Sheep Hunts available: Aoudad and Transcaspian Urials
Javelina $ 300.00 Harvest Fee.
Call or email for pricing Mule Deer Hunts: Ranch Office 512 752 3622 or Cell 512 756 3194.
It is over 45 sections of Rough but Prime Mule Deer Country that is Managed for Big Mule Deer. Some of the Best in Texas. We work year round to take care of our Mule Deer Herd.
We do supplemental feeding through out the year to help our deer herd threw stressful times. Post Rut, suckling fawns, weaning and there are time it does not rain and it seldom rains like we would like it to. We feel supplementing our deer does take stress off of our natural habitat and improves the life style of our deer herd.
Our Supplemental Water Guzzler's through out the ranch are one of our most important tools.
.
We really appreciate ALL of our hunter's patience's when hunting Mature Mule Deer.
We spend a lot of time in a Jeep. Most of our hunting is done Safari Style. We spend a lot of time glassing and we do some walking in some hard to get to areas.
We are not just deer hunting, we urge every hunter to look for only Mature Bucks, 5 to 7 years old. Come and enjoy the hunt knowing you may go home empty handed but with a great experience and the opportunity to take a GREAT DESERT MULEY. If you have never hunted West Texas, its a treat. This is a Trophy Hunt! We are looking for Mature Deer!
Complimentary tips to guides and cooks are kindly appreciated.
This Ranch has produced some of the best Mule Deer in Texas.
These bucks don't come easy but our guides work hard and we do hunt all day to try and get you the deer you are looking for.
There were lots of good young bucks seen this past season. We are looking for 2022-23 to be a good year with some help from Mother Nature and we have had some rain and off to a good start.
It takes 5 to 7 years to Grow a Trophy Mule Deer on the Average. These bucks don't come easy but we give 110% effort.
We urge our hunters to listen to your guides.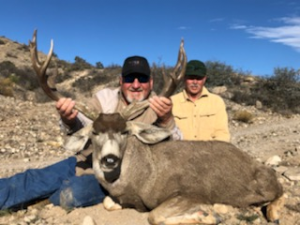 These deer have large bodies and sometimes fool you when you see them on the ground. They do not shrink! They get Bigger! My Guides are experienced and they know deer.
This Ranch is Managed for Mature Trophy Mule Deer. If you want to hunt on a Ranch where Big Bucks die of old age, come hunt with us. The Big Bucks are here, the country is Big and Rough, you just have to Hunt them and a little luck always helps.
These are Quality hunts for the serious Trophy Hunter and our hunts are limited. We appreciate all Hunters.