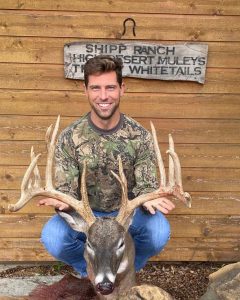 The Shipp Ranch is located 7 miles south of Lometa Texas in Lampasas County. The Texas Trophy Whitetail Deer Hunting Ranch is still part of several thousand acres of a Texas Cattle Ranch where farming, ranching and hunting is our life. We game fenced the main headquarters (900acers) of the ranch in 1991. We have been managing the ranch for Texas Whitetail Deer Hunting prior to that, starting in 1984. The TX Trophy Whitetail Deer Hunting Ranch is covered in Live Oak, Post Oak, Cedar and Mesquite. The terrain is rolling hills with deep soils and several fields planted in crops for Whitetail Deer. There is an intensive management program on a year round basis. The buck to doe ratio is 1:1. There is a limited amount of mature bucks harvested each year. Two are Three days should be planned for all hunts. A lot of the time our hunts can end on the first are second day but if extra days are needed it can be arranged. 100% opportunity is guaranteed. All Texas Whitetail Deer Hunts are guided 1×1 or 1×2. Lodging is furnished. Hunting is done from blinds, walking to areas, and rattling at places where big bucks are known to roam. The Bucks on this Texas Hunting Ranch are Not Typical of the Texas Hill Country. Through years of managing we now take many bucks scoring 200 Plus BC with our best scoring 275 BC. If your looking for a Good Place to hunt Texas Whitetail Deer, give us a call. We will give a 100% effort to get you what your looking for!
Hunters must have a valid Texas Hunting License (Available upon arrival).
Processing and Local Taxidermist available, also.
A 50% Deposit is required to reserve your hunt.
Rifle Hunts
Call for Pricing.
Let us know what you're looking for and we will do our best to get your Buck!
Corporate Groups Welcome! We will take care of your Customers.
Complimentary tips to guides and cooks are kindly appreciated!!!!!
All Whitetail Deer Hunts have ran a 98% success. Blinds are comfortable and clean. We make ever effort to make your hunt is what you would expect it to be. We tell it like it is. We work year round to make your short trip to the ranch a very enjoyable.. WE make sure you leave with what you came for.
(A GOOD HUNT WITH A BIG BUCK)
WE ARE NOT NEW TO THE BUSINESS. REFERENCE'S GLADLY FURNISHED!
OVER 40 YEARS OF TAKING CARE OF HUNTERS. WE ARE NOT NEW TO THE BUSINESS. THIS HAS BEEN OUR BUSINESS!
Our Whitetail hunts are all behind a high fence but are fair chase hunts. Our fence has not changed hunting but has changed our Quality of deer we hunt.
Give us a call at the Ranch 512 752 3622 / cell 512 756 3194 we will give you the hunt your looking for. We make ever effort to better our deer herd year after year through our intensive management and Breeding program. We pledge to make your hunt, one that will have lots of good memories. We want you to return and hunt with us again! We have hunts on Several Ranches.